Headrest DVD Monitors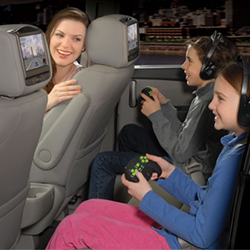 Add some excitement to those long road trips with our dual headrest DVD display system. Our system includes two 8-inch adjustable widescreen HD monitors, two sets of wireless headphones, and a wireless remote control. Optionally, you can add an enhanced gaming experience with the games pack featuring 111 games and 2 game controllers. This system offers rear passenger the flexibility to watch a movie and/or play a game, remaining fully engaged for the journey ahead. Audio output can be routed through your vehicles sound system, or through the wireless headphones included with the kit. We also offer an optional cable allowing you to integrate media from your iPod®, iPad® and iPhone® devices.
Headrest DVD Package includes:
Two 8-inch adjustable LED backlit widescreen TFT-LCD monitors
High definition WVGA resolution (800 x 480 RGB)
Concealed media ports featuring USB input and RCA input
Factory-match replacement headrests
Two sets of wireless headphones
Optional equipment includes:
Games Pack - featuring 111 games and 2 game controllers
iPod®, iPad® and iPhone® media cable
Security covers
Designed for: All Honda Models
Product Warranty: 3 years/36K-mile warranty when purchased with your Honda. 12 month product warranty offered if system is purchased separately.