Honda Vehicle Tents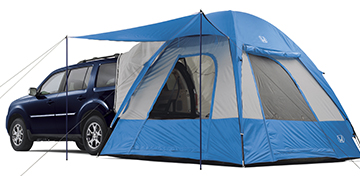 You never need reservations when you bring your very own camping system along with you.
Breathable, water-resistant fabric minimizes condensation underneath the cover
10 ft. by 10 ft. (sleeps 6 people)
6 ft. by 6 ft. rainfly extends usable area and provides added protection for the entire roof
Full access to vehicle while inside tent
Great for tailgating or as a shaded environment for outdoor gatherings
Designed for: CR-V, Odyssey, Pilot
Warranty Information: Genuine Honda Parts and Accessories carry a 3-year/36,000-mile warranty if installed at the time of the original vehicle purchase. Accessories purchased and installed at Don Jacobs Honda after the purchase of your vehicle still carry the remainder of the new vehicle warranty. Accessories purchased from the dealer, but not installed at Don Jacobs Honda have a 12-month warranty from date of purchase.